Neck pain or a stiff neck is a very common occurrence nowadays. Before you shrug it off as something trivial, take a moment to think about it. How much time do you spend texting, emailing from your phone or smart device, or just flicking through social media?
If your answer was a lot or more than you should, and you are suffering from acute neck pain, you may be experiencing stiff or tech neck. It is a repetitive strain injury and one that is seen in a growing number of patients.
If you do suffer neck pain, it is alright, you are not alone. Also known as cervicalgia or cervical pain, neck injuries are a common problem, with two-thirds of the population have neck pain at some point in their lives. Neck pain can be acute (lasting for 6 weeks or less) or chronic (lasting for 3 months or longer).
The more common causes of neck pain include:
Stress and some mental health issues.

Prolonged poor postures; incorrect postures; sustained postures (eg. falling asleep in an awkward position, or even carrying a child for long, can cause strain!).

Muscular strains or spasm and overuse or underuse (deconditioning).

Minor injuries and falls.

Motor vehicle accidents.
Can home physiotherapy assist with neck pain?
Neck pain can be successfully treated with home physiotherapy. However, neck pain is not solely about joints and neck muscles. The application of a heating pack is often recommended for a sore or stiff neck, as the heating pack increases blood flow to the affected area, helping the muscle to recover quicker.
New research has shown that a combination of neck, joint and muscle treatment performed as part of physiotherapy and some specific strengthening exercises are effective ways to eliminate your neck pain, stiffness and headaches.  The good news is that you can also reduce your chances of neck pain returning significantly if you do the right thing quickly.
Other quick fixes for a stiff neck
Here are two super easy tips to manage the nagging pain for a short term relief:
Look forward! Don't tilt your chin down to look at your smart devices, try moving the device up towards eye level, just like your desktop screen should be.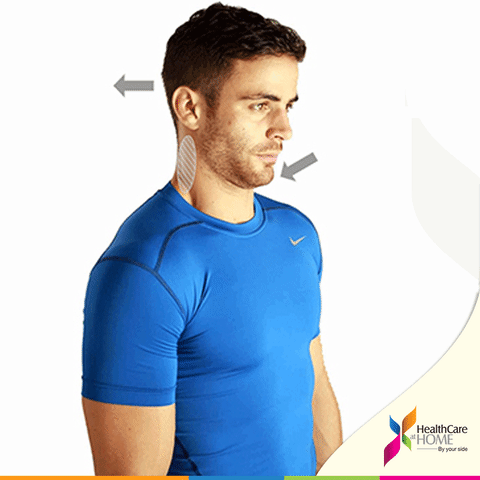 Straighten on up! If your posture isn't perfect, try doing shoulder extensions. Arch your neck and upper back backward, pulling your shoulders into alignment under your ears. This simple stretch can alleviate stress and muscle pain.
If you are experiencing any symptoms of stiff neck, the next step is to book in for a home physiotherapy assessment to really get to the root of the problem. 
HealthCare atHome's team of expert home physiotherapists will guide you through a series of exercises to help strengthen both your neck and back muscles and devise a customized treatment plan, as needed.
For expert advice on neck pain, or FREE telephonic consultation, contact our Physiotherapy Helpline at 0120-6783277.